Studies show that approximately 95 % of all errors with gas-, electricity- and water pipes are caused through excavator works. If the supply pipes can be localized reliable and early enough, the delay of construction progress as well as additional costs will be avoidable.  
What makes our KEKOPLAST® Underground Warning Tapes special
/// KEKOPLAST® No. 10 underground warning tapes are installed 30 – 40 cm above the service pipe to warn the operator early enough against damages. While trenching with the excavator the tape elongates very strong that it will be apparently well before breaking.
/// Moreover, the product characteristics support the ideal warning function: KEKOPLAST® underground warning tapes cannot be ignored because of the luminescent colours. With the help of the printing text one can identify type and owner of the pipe and cable that are laying underneath. Because of the strong elongation that the tapes have, trench workers will be warned on time. The warning function of the tapes is temporally limitless and that is why the tapes are absolutely resistant to ageing and colour fast. The print is permanently legible and therefore scratch- and wiping resistant.
/// Like all KEKOPLAST® products the underground warning tapes are made of polyethylene which behave absolutely environmental-friendly.
No. 10 Underground Warning Tape
according to German FTZ specification 548464 TV 1
co-extruded PE, resistant to ageing and temperatures, colourfast, permanently legible with film lamination
colours: yellow, red, blue, green

 

(other colours and dimensions upon request)
No. 94 Underground Warning Tape with perforated rated break
with perforated rated break points
according to DIN EN 12613
co-extruded polyethylene foil with technical specifications of Deutsche Telekom, Arcor, RWE, etc.
resistant to ageing and temperatures, colourfast,

 

permanently legible with film lamination
colours: yellow, blue, green, red

 

(other colours and dimensions upon request)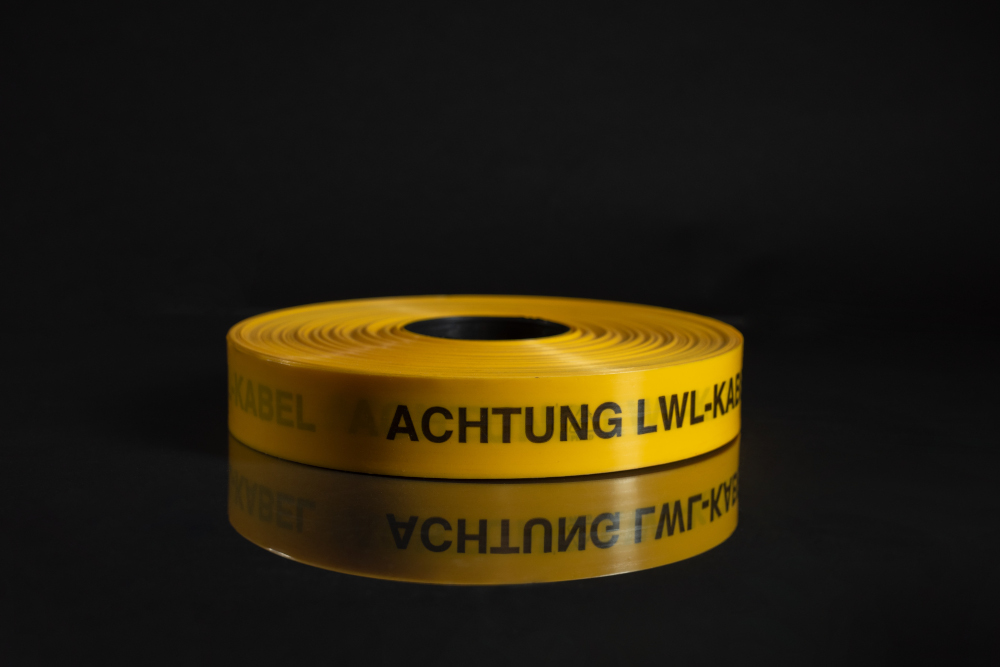 The safest method, disturbances of the gas to prevent current and water supply is an early warning protection. Approx. 95% of all disturbances at lines buried under ground are caused by excavator work. Route warning volume No. 10 KEKOPLAST becomes approx. 30 – 40 cm above the supply line moves and warns thus the excavator leader in time before damages.
The route warning volume is not to be surveyed in addition by the bright color and gives on the basis the imprinted text explanation over the kind and the owner of the cable or pipe which is under it. By its large elasticity the route warning volume has a warning effect with foundation engineering works. This is temporally unlimited, because the volume is age-resisting and colorfast. The print is sealed by a highly transparent foil, it is thus scratching and washable.
With digging with the excavator the volume is stretched so much that it becomes well visible before tearing up. Like all products also the route warning volume KEKOPLAST made of polyethylene is manufactured and behaves therefore absolutely environmentalneutrally.
KEKOPLAST Trassenwarnband Nr. 94 mit perforierten Sollbruchstellen
Das bisherige Warnprinzip beruhte auf der Verlegung stark dehnungsfähiger Warnbänder über den Leitungen. Bei Erdarbeiten wurden die Bänder langsam aus dem Boden gezogen und rissen erst in der Baggerschaufel ab. Die technologische Entwicklung, insbesondere die heutige Hubgeschwindigkeit der Bagger von bis zu 500 mm pro Sekunde, machte dieses Warnprinzip überarbeitungsbedürftig, denn die Bänder reißen durch die hohe Krafteinwirkung bereits im Erdreich ab und bleiben somit unsichtbar.Die Lösung dafür bietet das
KEKOPLAST Trassenwarnband Nr. 94, das eine völlig neue Warnbandgeneration repräsentiert. Es erfüllt sämtliche Sicherheits- und Produktionsvorschriften nach der DIN EN 12613, die in Zusammenarbeit mit dem Institut für Bauschadensforschung Hannover, der Fachhochschule Mainz sowie der Deutschen Telekom entwickelt wurden.Das vorherige Warnprinzip stark dehnungsfähiger Bänder wird durch das Prinzip extrem hoher Reißfestigkeit ersetzt.
In Verbindung mit perforierten Sollbruchstellen garantiert das Trassenwarnband Nr. 94 eine perfekte Warnwirkung.Das Produkt reißt erst bei extrem hoher Krafteinwirkung durch den Bagger. Das selbstentwickelte Abrißverhalten über die eingearbeiteten Sollbruchstellen stellt die Förderung der abgerissenen Bandfragmente auch bei hohen Hubgeschwindigkeiten sicher.Die Produkteigenschaften unterstützen die Warnwirkung auf ideale Weise. Durch seine leuchtenden Farben ist das Trassenwarnband nicht zu übersehen. Der aufgedruckte Text gibt auf einen Blick Hinweise auf Art und Eigentümer des Leitungsnetzes.
Die Warnwirkung ist zeitlich unbegrenzt. Das Band ist absolut alterungsbeständig und farbecht, selbst in aggressiven Böden. Durch die entsprechende Folienkaschierung ist der aufgedruckte Text dauerhaft auch gegen mechanische Einwirkungen geschützt und bleibt lesbar.
Wie alle KEKOPLAST Produkte wird auch das Trassenwarnband aus Polyethylen hergestellt und verhält sich deshalb absolut umweltneutral